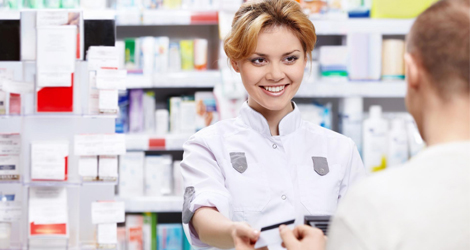 At VUE POS, we provide Point of Sale products for pharmacies, featuring touchscreen-driven menus, latest scanning technologies. Our systems provide you the flexibility and ease of use required to run your business efficiently. Easy to train and deploy, our POS software offers complete security controls that protect your margins and improves reporting capabilities.
From clinical pharmacies to large retail chains, we partner with you to grow your sales and increase margins. We are committed to providing our clients with topnotch customer service while meeting regulatory and industry requirements. Our customers know that they have a real partner dedicated to their industry and the success of their business.
Optimize your Inventory
With our POS systems, we allow you to spend more time with your customers and less time in product maintenance. Our products will significantly reduce inventory investment, improve accuracy and grow your sales. We're proud to providing pharmacies with highly intuitive and dependable system softwares.
See your Profits at a Glance
Track your sales with comprehensive reporting solutions. With real-time reporting, you can save yourself a lot of time and efforts. Our reporting suite will provide insights and margin opportunities for your front store.