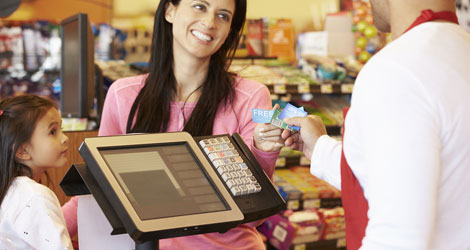 We built our business by knowing your business. That knowledge enables us to equip you with the right solution and services to help you make the most of your investment.
We complete our customer-driven mandate with a goal of "Total Excellence" in customer service. From comprehensive training sessions and complete installation services to help find the right partner for the most cost-effective merchant account rates, a large selection of credit-card machines and point of sale equipment.
Consultation – Our team of experts will create a best of breed solution specifically for you. VUEPOS partners with all major POS manufacturers and is therefore able to provide an unbiased offering of all the solutions available. Your success is ours and we want the right fit for your business and your budget.
Project Management – Based on scope and size, we assign a dedicated project manager to be a single point of contact between your staff and our technical team. Your project manager will develop a plan with measurable deliverables and milestones, and work with you throughout the process, ensuring you a comfortable transition.
Implementation – From cabling to on-site installation and go live support, is there to get you and your staff off the ground with your new system.
Onsite & Remote Training – Once your POS system is installed, we offer remote or onsite comprehensive training performed by our certified technicians. This is not only for your initial setup, but for any new initiatives that your business needs to stay current. Our friendly staff will walk your team through the training process step by step and insure that you get the most out of your solution.
Unmatched POS Support Services
At the core of our services infrastructure is our state-of-the-art, 24/7 live agent support center, staffed by a dedicated, knowledgeable and skilled team of customer support specialists with a combined 20 year plus of the point of sale and industry experience.